Sarasota library debuts
e-mail reading club
Reprinted from the
Sarasota Herald-Tribune,
February 3, 2000
By Rodney Crouther
STAFF WRITER
Using the most basic of Internet tools, the Sarasota County Public Library's Online Book Club could be a trendsetter for libraries across the nation.
This is not your traditional reading club, with a handful of people discussing a work of fiction. Rather, it's a new kind of library outreach aimed at time-challenged, tech-savvy book lovers.
Helen Bums, librarian at Elsie Quirk Public Library in Englewood, said the club is a way to sample the latest books without having to make a trek to the library or bookstore.
"Monday through Friday, a chapter of a new best-selling book will be e-mailed directly to you," Bums said. "Over the week you get the first two or three chapters of the book."
If the book piques your interest you can reserve a copy of it through the library's main Web site and pick it up at a local branch.
Public libraries nationwide are looking for ways to integrate the Internet into their operations. Several have started online book discussion groups, but Peggy Barber of the American Library Association said the Sarasota club could be the first of its kind.
She also said it sounds like a service that could catch on quickly.
"It's a really interesting idea. I think people are really looking for someone to help them decide what to read," said Barber, the American Library Association director of communication.
The service is the product of a partnership between the library and Chapter-A-Day, a Sarasota-based Internet company. Both say the only goal is to get more people to read.
That is exactly the role Chapter-a-Day owner Suzanne Beecher envisioned when she created her service about six months ago.
"I just want people to read more," Beecher said. "Of course, the library has an interest in people reading more, and through the Online Book Club we can work toward that common goal."
Membership in the club is free, and participants do not have to be library-card holders. Patrons can also participate using the free Internet and e-mail access at the library. If the program is a hit locally, Beecher said she plans to offer the service to libraries across the United States.
Beecher provides the service to the Sarasota County Public Library for free. The only potential source of income for her is a link on the Chapter-A-Day home page that sells books through online retailer Amazon. com.
An avid reader, Beecher said the idea for Chapter-A-Day came as she shared excerpts of a book she was reading with employees in her other company, The Computer Group.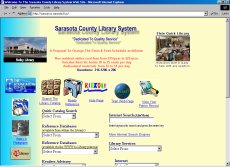 "The staff is mostly mothers who work from home, and we communicate by e-mail," she said. "They started e-mailing me back and saying, 'I had to go out and buy that book.' Then it was like a light went on in my head."
She began contacting book publishers and requesting permission to publish parts of their books in e-mail form, including tiC-book she sent to her Computer Group staff.
For the club to work, Beecher said, it is crucial that each day's e-mail contains just enough of a book to stir the reader's curiosity.
"Just taking five minutes, you start to get that special feeling you get from reading something you enjoy," she said. "Before you know it, you're working reading into your daily schedule."
Drew Smith, an instructor at the University of South Florida's School of Library and Research Sciences, compared the online book club approach to the promotional methods retailers and publishers have used for years.
"It's like Amazon.corn, where they let you listen to 30 seconds of a song on a CD or when publishers would print an excerpt from a new book in a magazine," he said.
Barber said the success of Oprah Winfrey's book club is evidence that there are legions of potential readers out there.
"Oprah's book club has gotten millions of people to read the books she selects," she said. "It's something that can definitely have an effect."
BACK TO IN THE NEWS PAGE | BACK TO HOME PAGE